• cuisinart pellet grill • reverse sear • rib steaks • smoked steaks • steak and eggs • steaks
If you have friends that stay over from the night before and you're looking for a great brunch idea then consider doing steak and eggs.  One of our favorite things to prep in the morning is steak and eggs.  It's fast, filling, most people love it and if you pull it off right, it looks great.  Here are some shots from our cook on New Years day - snow and everything.  We really enjoyed testing out the new Cuisinart Pellet Grill with this cook and it added a great smokiness to the steaks which added a great additional layer of...
---
• Bacon • Brussels Sprouts • Cuisinart Pellet Grill • Harissa Lamb • Lamb • Mustard Lamb • Smoked Lamb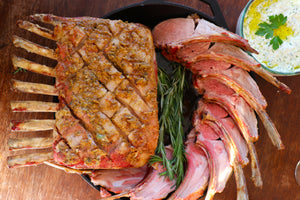 We had a bunch of friends over for New Years Eve to celebrate and we thought we'd invest in the party by prepping a few racks of lamb.  For one of the racks we made a spicy harissa marinade and the other we went with a mild herb based rub so there something for everyone.  We smoked both of these racks on the new Cuisinart pellet grill and once they approached their final internal temp we seared them off on the pellet grill too.  It's great to have a pellet grill that can give you that smoky taste profile you're looking for but...